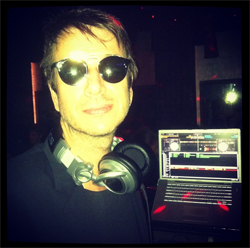 Growing up the shadows of London NICK MARC developed a love of music at an early age. A growing disillusionment in his home country in the early nineties led to NICK MARC finding his way to New York City where he started establishing himself as a DJ spinning at venues such as Coney Island High, Webster Hall, Wax and Spy.
In 1995 he founded the legendary TISWAS party at Coney Island High where it quickly established itself as the premier indie/dance party in NYC before moving to the infamous Don Hill's for a seven year run and then re-launching at Lower East Side club The Annex. NICK MARC's innovative DJ sets mixing indie, rock 'n' roll, Britpop, sixties garage, soul, electro, punk/post punk and more anchored the festivities with many crediting him with advancing the indie dance party in not just NYC but in the USA as a whole. He was also co-founder of the ON! party at Life and Shattered at Spa.
For over twenty years NICK MARC has been a mainstay of the New York club scene manning the decks at such notable spots as Sway, Hiro Ballroom, CBGBs, Kenmare, The Beauty Bar, Happy Endings, Sheltering Sky, Boom Boom Room and others. His depth of musical knowledge and versatility as a DJ has kept NICK MARC in demand for two decades and counting. His corporate clients have included Ben Sherman, FHM, Blender, Beefeater, Tommy Hilfiger, Dazed and Confused, EMI and Yellow Rat Bastard, he has shared the decks with many name DJs from Arthur Baker, Mylo, Tommie Sunshine, Peter Hook (New Order), Martin Gore (Depeche Mode), Andy Rourke (The Smiths), Stretch Armstrong, Too Many DJs, Rory Philips (Trash! UK), Tim Burgess (The Charlatans), David J (Bauhaus, Tones On Tail, etc.), Goldie, Junior Senior and Joey Ramone amongst others. NICK MARC has also deejayed or produced shows with The Black Keys, Guns n Roses, The Strokes, Black Rebel Motorcycle Club, Interpol and Iggy Pop.
Currently NICK MARC has a long standing Friday night residency at the Gramercy Park Hotel's Rose Bar and is also plying his trade Tuesdays at the Electric Room (Dream Hotel Downtown). NICK MARC is still in demand for private and corporate events and still makes frequent guest DJ appearances around New York City.
NICK MARC is also an avid soccer fan who enjoys traveling, food, cooking, movies, reading and sleeping in late!