Jenny, Terrah, Hannah and Jonny made up the Twenty Twos. An album was recorded for Tiswas Records before the band was picked up by Epic Records. Though the band toured extensively both the USA and the UK unfortunately the full album was never released but a four song EP was released on Epic/Tiswas Records.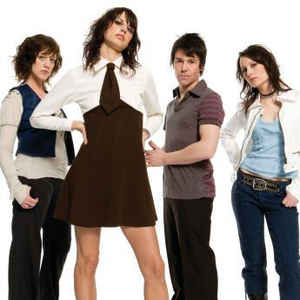 Comprising of Jenny Christmas (lead vocals and guitar), Terrah Schroll (vocals and keyboards), Hannah Moorhead (bass) and Jonny Cragg (drums) The Twenty Twos were founded in the spring of 2002 when Moorhead and Schroll met through mutual friend Tracy Bonham, and began writing songs in a makeshift bedroom studio in Schroll's Astoria apartment. Jenny Christmas, a highly regarded guitarist and singer-songwriter unofficially known as the hottest bartender in the East Village soon joined and intensive songwriting and a rigorous rehearsal schedule yielded palpable results. By the end of the summer, the band lineup included ex-Spacehog drummer Jonny Cragg, a wily British import with a reputation for being one of the best drummers in New York City. The only thing was, Cragg was never hired by The Twenty Twos. After agreeing to attend a rehearsal with the sole intention of poaching Moorhead for one of his myriad other projects, Jonny was so moved by the band's sound and vision that he immediately ditched his scheme and pledged allegiance to Jenny, Hannah and Terrah. According to Cragg, the decision was simple: "They were way better-looking than anyone I was playing with at the time."
The lineup complete, success came swiftly for The Twenty Twos. Their unprecedented blend of driving rhythms, vintage synth noise and disquieting lyrics attracted the attention of British spaz rock act Supergrass, who invited The Twenty Twos to open for them in early 2003 at New York übervenue Irving Plaza. By the fall of 2003, The Twenty Twos found themselves on an extensive tour of the UK supporting fellow New York art rockers Stellastarr*. 2004 brought more US tour dates with Supergrass, and by the end of the year the band was finally ready to lock themselves in the studio and start recording an album. A five-song EP was released on the Tiswas Records/Epic label to support The Twenty Twos' participation in the 2005 Vans Warped Tour.
While The Twenty Twos' sound was far from sugar-coated, their songs displayed a sophisticated pop sensibility that can alternately induce you a lump in your throat or steal your next-door neighbor's Camaro and drive cross-country really, really fast. Cragg and Moorhead's rhythm section was suffocatingly tight, deftly switching from punk to spacey pop in songs like "All Made Up" with the contained fury of an electrical storm. Christmas's guitar playing was uncommonly resourceful, almost to the point of being economic – she has an extraordinary gift for knowing exactly how much to play without ever losing momentum or going overboard.
Schroll's vocal style managed to mix seamlessly with Christmas's while remaining distinct enough to carry breathtaking leads on darker numbers like "Radio." Her arsenal of vintage keyboards provided lush, neo-prog soundscapes that lent the band's radio-ready pop songs a refreshing unpredictability and at times epic scope. With influences as diverse as The Cure, The Clash, Stevie Wonder and Yes, it's not surprising that The Twenty Twos sounded like nothing you've ever heard before.
Video
Photos