Founded by ex-pat Nick Marc TISWAS was the precursor to the current New York scene. Combining indie, electro, brit pop, new wave, dance remixes, new wave/post punk, bootlegs, 60s beats and soul shots on the dance floor as well as showcasing up and coming bands TISWAS established a blue print which provided inspiration from New York to Boston to Miami to Los Angeles…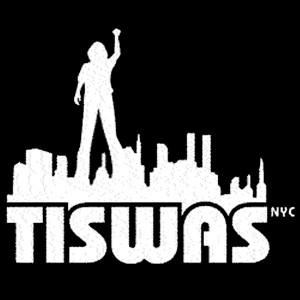 Founded in 1995 when British ex-pat DJ Nick Marc combined his monthly NW1 party with DJ Nadia and promoter Kym's Bullseye party, TISWAS debuted on a wet October night at the much-lamented Coney Island High on St Mark's Place. Named after an anarchic Saturday morning kids TV show TISWAS was initially influenced by the then exploding British music scene along with eighties indie pop, new wave, sixties garage/rock n roll and soul/funk freakouts becoming one of the first indie dance parties in New York City. Live showcases were added to the mix, early performers including Spacehog, The Mooney Suzuki and Ronnie Spector (The Ronettes), and the party continued to grow attracting a loyal and well-dressed fan base.
Following the departure of original partners Nadia and Kym Nick Marc continued at the helm of TISWAS joined by a series of promoters/hosts including Steve and Pedro who went on to found the SHOUT! party. Originally a weekly Thursday night party it was in 1998 that TISWAS moved to Saturday nights at the legendary Don Hill's where it flourished. In  1999 hostess/DJ Justine D. joined the TISWAS team bringing her unique musical and fashion sensibilities to the mix as the party attracted a veritable who's who of the burgeoning NY/US music scene, hosting early shows from the likes of The Strokes, Interpol, Radio 4, Stellastarr*, Elefant, The Brian Jonestown Massacre, Morningwood, Longwave and The Stills, all of whom were TISWAS regulars. TISWAS was now in full swing, packed to the rafters with shag haired boys, kohl eyed girls, scooter boys, mods, rockers, models, academics, stylists, students and everything in-between crowding the dancefloor and stage, rapturously boogieing down to DJs Nick Marc and Justine D.'s innovative sets combining everything from indie, classic rock n roll, Britpop, electro, soul stompers, psych, pop, bootlegs and more. Guest DJs would often feature too with notable names such as Rory Philips, Too Many DJs, The Charlatans' Tim Burgess, The Queens of Noize, Arthur Baker, Tommie Sunshine, Stretch Armstrong and The Smiths' Andy Rourke all rocking the room. Justine would make the rounds photographing the crowd who would then wait with bated breath to see whether or not they had made the TISWAS' website photo gallery, this in an age before party photographers became the norm. The promotional flyers and posters provided a strong visual continuity utilizing a theme of mainly sixties/seventies glamour shots. By this time TISWAS was firmly established as New York City's premier indie party with imitators near and far!
Alas all good things cannot last and after a fantastic seven year run it became time to say goodbye to Don Hill's. With the departure of Justine to concentrate on other projects Nick Marc joined forces with fellow Brit Spiky Phil to launch TISWAS 2.0 at The Annex on the Lower East Side in January 2006. Successfully opening with guest DJ appearances from Mani (Stone Roses, Primal Scream) and the following week Peter Hook (Joy Division, New Order) along with a live appearance from Editors saw regular service resumed. Now DJing as a team Nick Marc and Spiky Phil would play their raucous sets back lit, shrouded in dry ice on the narrow stage of The Annex as TISWAS 2.0 continued to pack them in! Now with more of an emphasis on guest DJs than bands TISWAS 2.0 welcomed guests such as Russell Lissack (Bloc Party), Will Sargeant (Echo & the Bunnymen), Chris Holmes, A Touch of Class, Sharin Foo (The Raveonettes) and Adam 12 (She Wants Revenge). In 2007 long time TISWAS regular DJ Jess Marquis (RIP) joined Nick and Phil in the DJ booth to great effect! After a two year run at the Annex it was time to move on. After an ill fated move to the studio at Webster Hall TISWAS returned to Don Hill's as a monthly party while also spinning under the TISWAS banner at The Beauty Bar but time had come to move on.
Since discontinuing the weekly party TISWAS has continued to produce and promote the occasional live show such as old friends Spacehog and Icelandic psych rockers Dead Skeletons. Now twenty years after it's launch of TISWAS, has earned it's place in New York City's rock n roll/clubland history, and who knows, maybe there is an anniversary party in the cards……